Expansions and Add-ons
Some XMP controllers may be enhanced with additional hardware. These include:
Expansion boards -- These expand the number of axes run by a controller by adding up to two motion blocks for a total of 16 axes. Unlike main boards, expansion boards do not contain SHARC DSP processors. They are available for XMP-PCI and XMP-CPCI-6U form factors only (not available for XMP-CPCI-3U and XMP-SERCOS-PMC controllers). An expanded XMP-CPCI-6U controller is shown below.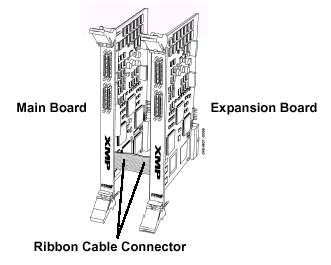 SIM4 modules -- Scale Interpolation Modules (SIMs) are mounted mezzanine-style to motion controllers that use encoders with sinusoidal outputs. These enhance positional resolution significantly and are available for XMP-PCI and XMP-CPCI-6U controllers only. A maximum of two SIM4 modules may be added to each main or expansion board. A SIM4 module is shown below with an XMP-PCI controller.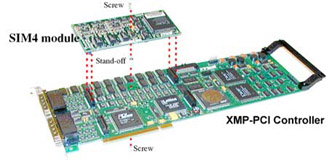 For detailed information regarding SIM4 modules, please refer to Application Note 206 from Motion Engineering.